My City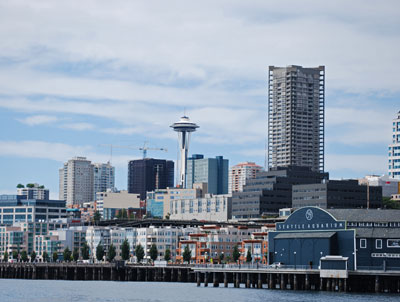 When I was 18 years old two of my friends and I took a road trip to visit the four corners of the United States. That's when I first visited Seattle. I liked it just fine until I sipped some locally grown, freshly brewed coffee while watching the sunset from the Smith Tower with my loved ones. Then I fell in love. After I earned my teaching certification I left home (but to this day my mother says I ran away) to settle in Seattle for good. Seattle is less than 150 years old but it's already so rich in culture. Being a port city, it has some of the best seafood in the world. Seattleites love to eat. You can't turn your head without seeing a steakhouse or a restaurant selling either sushi or Italian food. Probably my favorite place to catch a bite is Lucky's Diner over on 1st Ave. I'm a teacher; I don't make a lot of money. But every meal at Lucky's is well-made and affordable. I get a different dish every time I go! And don't get me started on the coffee! New York has pizza, Philadelphia has cheese steaks and Seattle has coffee. Starbucks was founded here as were Tully's and Seattle's Best (but that last one was probably pretty obvious). We are so famous for the quality of our coffee that some credit Seattle with America's café culture.
Seattle isn't just great because of the food. Tons of famous musicians grew up in Seattle. Legendary producer Quincy Jones who made songs for Ray Charles, Michael Jackson, Frank Sinatra, and so many others got his start right here. But perhaps Seattle is best known musically for its rock stars. It was home to Eddie Vedder and the rest of Pearl Jam, Jimi Hendrix and Kenny Loggins. Kurt Cobain and Courtney Love pursued their rock romance in Seattle and it is where the former committed suicide. Recently one of my students had me listen to a song by rapper Grieves who is from the area. Hip-hop has never been my favorite form of music but I really enjoyed it. I bet he'll be the next big thing.
Even though the skyline is blocked by buildings for manmade industry, anyone can take a ride up to the top of the Space Needle or the Smith Tower and watch the sunset. I've heard many people in this city say they've never visited the Needle, and when I visited New York so many locals had never been to the Statue of Liberty. We have landmarks right in our backyards, why shouldn't we take advantage? I visit the Needle at least once every month and I take my students on a field trip every year when we study local history and the Great Seattle Fire of 1889.
I am also a diehard fan of the Mariners and even though they moved to Oklahoma City, I just can't seem to quit our former Seattle Supersonics. That's my city! If you've never been or if you've lived here your whole life, you need to get out and see the sites. The Rain City is never rained out.